The air sensor technology market is expanding as more low-cost sensors are available.
The new generation of low-cost, portable air quality sensors opens an exciting opportunity for people to use this technology for a wide range of applications, many of them linked to the IOT trend of sensing everything.
VITO assists in the selection of the most suitable sensor solution for your application and provides costumer-oriented sensor validation services.
Sensor Selection Tool
VITO developed a Sensor Selection Tool to provide an overview of commercially available air quality sensors and their characteristics.
The aim of this tool is to help local governments, policy makers and citizens in finding the sensor that best fits their needs.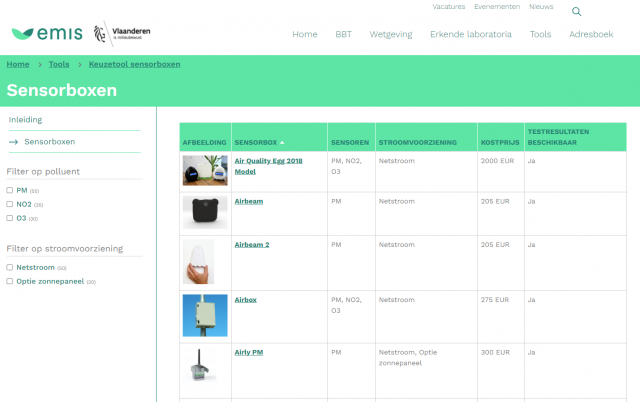 Literature Search and Market Analysis
In 2019, VITO conducted a literature search and market analysis of commercially available air quality sensors and their reported performance.
The final report can be downloaded below.
Blueprint Air Quality Sensor Networks
Within the framework of the VLAIO City of Things program, we developed a hands-on tool (blueprint) for local governments aiming to roll-out air quality sensor networks in their municipality or city. The blueprint includes scoping advice and practical tools with regard to defining a research question, experimental setup, roll-out, data analysis and communication. The blueprint is experimented on two real-world use cases determining (1) the pollution contribution from traffic at the Grote Markt in Sint-Niklaas and (2) the impact from traffic measures on the local air quality near a school in Kampenhout.
Full report (blueprint + research trajectory) (Dutch)